The Control Room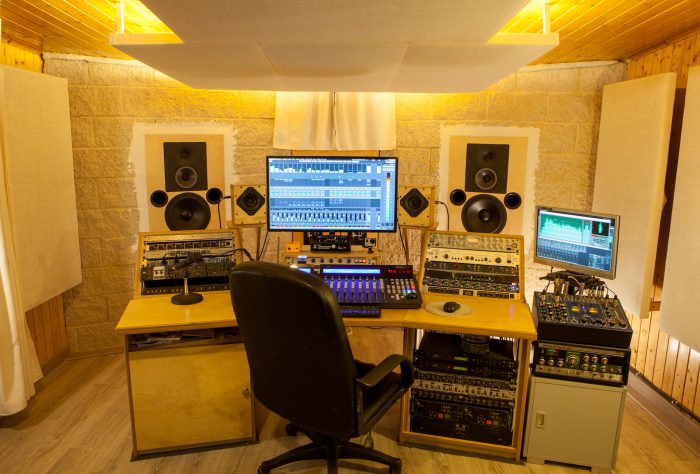 The control room is 25 square meters large with daylight and an enjoyable working atmosphere. The acoustic design is based on the non environmental concept and complies with the EBU recommendations (tech 3276) for maximum neutrality and dynamic in the assessment of any audio material. At the core of reproduction are the Carvalho Audio MM-12 three way main monitors. These high fidelity reference speakers are flush mounted in a massive concrete front wall. Near field monitoring is available via Yamaha HS80 and Mixcubes from Carvalho Audio.
Equipment
DAW & Interface
ProTools HD 2019
Cubase Pro 9.5
Hofa DDP Master
RME Fireface 800
Apogee Rosetta 800
RME ADI-2
Preamps
1x Avalon VT-737SP
2x Tejuca Neve 1073
2x Warm Audio WA12
1x Sound Skulptor MP566 Tube
2x TL Audio M series
1x JoeMeek ThreeQ
1x TL Audio Ivory 5050
8x Midas XL48
4x RME FF800
Outboard
SPL Mixdream
Radioman SSL Bus Compressor
Lindell Audio 77X-500
Roland Space Echo RE-201
Sound Skulptor LA502 Optical Compressor
TL Audio FatTrack
2x DBX 266XL
"Bungalow Studio is one of the best options for the world of audio engineering in Galicia. All of our joint productions were a 10/10.
Recordings, mixes, touring and live sound… tremendous in every aspect. Full on quality!"
www.jazzactivist.com
The Studio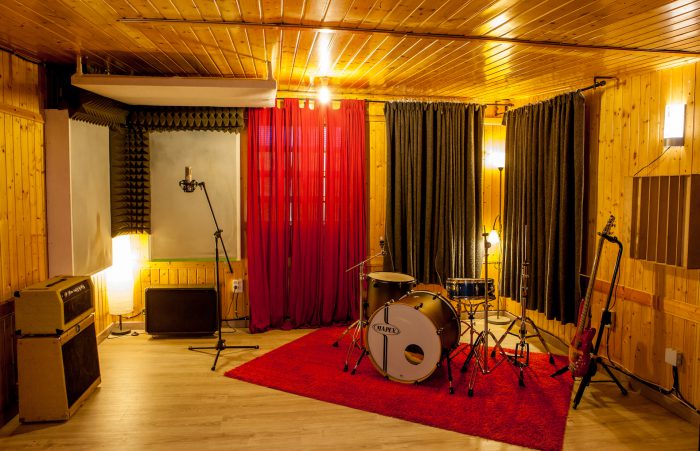 The live room provides a size of 24 square meters and daylight. The acoustic behaviour is variable by means of curtains and mobile acoustic panels. So it is possible to get an open and natural room sound, for instance when tracking rock drums and guitars, or transform the studio into a dry space when recording vocals.
Equipment
Microfonia
1x Schoeps MK41
2x Akg C535
1x Shure SM7
4x Gefell UM70, M94, M93
2x MBHO KA400
2x Beyer M88
4x Revox M3500
1x Rode K2
6x SM57
8x SM58
3x MD421
2x D112
1x e901, beta91
var. DIs de Radial
Instrumentos
Batería: 1965 Premier Elite Series (Caoba)
Bajo: Kaway Pasive RB 51P
Contrabajo: Palatino 3/4 con cuerdas Presto Nylon Wound, Previo: Shadow Rockabilly
Guitarras: Grestch 6120, Peavey Rockinham, Paul Reed Smith EG4, Fender Standard Stratocaster, Yamaha Pacifica Standard
Doepfer PK88 Masterkeyboard
Korg Microkorg
Backline
1967 Fender Super bassman (modificado con 6V6 power tubes+ master volume)
Fender Frontman 112 Head - 100 Watt, Solid state
Harley Benton VT30 - Head - 40 Watt (4 x EL84)
pantalla 2 x 12" Celestion V30
Harley Benton VT30 - Combo - 40 Watt (4 x EL84) 2 x 10"
Ampeg Portaflex PF500, pantalla Kustom DE 115 300 Watt @ 8 Ohm
"The high degree of definition in the mixes and the aesthetical coherence along twenty years of mutual productions are simply astonishing. The fantastic sound quality and the technical knowledge of the Bungalow engineers transform any artistic performances into outstanding and everlasting documents."
euphorium records
Clients
Trettmann
Ernst Ludwig Petrowsky
Wanja Slavin
Sinestesia
Espiño
Los Chavales
Los Zapruder
Rockin' Gina & The Sentinels
Steve Riot
Grüvzilla
Los Kanaloas
Fredi Leis
The Fabulous Resaca Brothers
Roberto Sobrado
Stormy Trucks
Musel
Paulo Silva
Gancho Sanches
Thee Boas
Dr. Gringo
Glasgow
The Lost Omelette Makers